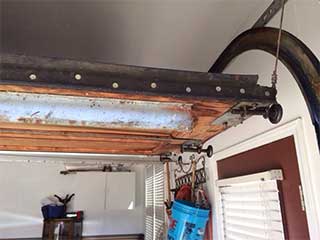 Your garage door needs regular maintenance to ensure it remains in top working condition at all times. If your door squeaks, creaks or shudders regularly, it's a sure sign your door needs to be serviced. All the various parts that enable it to open or close at the click of a button are under enormous strain and over time, they can dislodge, be damaged or even break. Call for our expert maintenance services to keep your garage entrance in top condition and your home and family safe.
Home Security Requires Garage Door Maintenance
Your garage is a key entrance to your home and statistics show that in nearly 10% of all US home invasions, the point of entry is through malfunctioning garage mechanisms. Keeping your door in good working condition is not difficult, though. You simply call our professional service team and we will come to you with all the right equipment, training and experience to ensure your door is always in peak condition. This also means that your garage entrance, which is usually overlooked in most home alarm systems, will also be secure.
Is Your Garage Safe?
Another important reason for regular maintenance is for safety reasons. When the parts are not regularly serviced, it could lead to any of them breaking or failing to function properly. This includes the safety features built into every modern door that are designed to prevent the door from crashing down on any objects, or people, who may be underneath. You may not hear about this kind of accident very often these days because such safety precautions are now required by US law. But the rare times such tragedies do occur it's almost always because of a safety mechanism malfunction that could have been prevented by professional maintenance.
Regular Maintenance Saves You Money
A third reason you should schedule regular maintenance checks with our experts is because it can save you a lot of money. Regular maintenance and small repairs will cost you a fraction of the price when compared to repairing or replacing multiple parts once they are broken. And in most cases, when one part breaks down, it causes additional pressure on other door parts and leads to a chain reaction of damage. When you call our professional team for a routine maintenance check, we'll make sure that every part of your garage door is scrutinized, tested and serviced. From the safety pressure sensors to the bolts holding the cable tracks in place, we'll make sure your door is in top working condition at all times.
Call for reliable and affordable maintenance services in Chandler. We'll make sure the job's done right!
But wait, there's more! We also offer:
Garage Door Safety Inspections
Opener Sensor Repair & Replacement
Extension Spring Adjustment
Broken Garage Door Track Repair