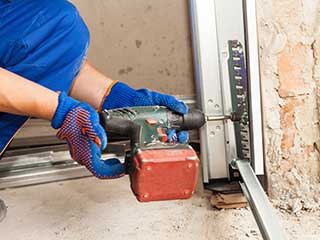 At Garage Door Repair Chandler, we believe in providing the most reliable repair services to all of our customers. We understand that a broken system can leave quite a dent in your schedule, and so, as the best service provider in Arizona, we feel it is our duty to get your system up and running as quickly as we can so that you can get on with your day.
Spring Replacement
A faulty garage door spring is not only a problem for the sustainability of your system, it can also pose a serious danger to your personal safety as well. Without these crucial components, your door can tilt, slam shut, or even fall off completely. Springs are the "muscles" that help your door operate, they hold a lot of tension, and therefore must only be handled by an experienced professional. Our skilled technicians can do more than simply repair or replace these components whenever they get too damaged. We can also provide you with routine maintenance appointments that will help keep them, as well as your entire system, at an optimal condition.
Panel Replacement
You would be happy to know that if the door itself has been damaged, perhaps in a parking accident or simply from a rogue baseball, you may only need to replace a panel instead of the entire thing. Our team will be more than happy to provide you with this service. So whether it's a minor crack, a major dent or the whole door that has simply crumbled to bits, you should give us a call.
Fixing Safety Features
The opener sensors are possibly the most important parts of your system as far as safety is concerned. If the sensors are not working correctly, the door wouldn't reverse when something gets in its path. You can probably tell how potentially dangerous a situation like that would be. All modern automated systems are required by law to have working safety features in place, so if yours are not operating correctly, we would be happy to fix them for you.
Give us at Garage Door Repair Chandler a call today for more information on our repair services.
We also offer the following:
Torsion Spring Repair & Replacement
Garage Door Opener Track Maintenance
Overhead Door Installation
Garage Door Cable Replacement