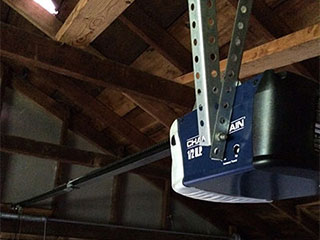 How Does Your Opener Work?
Despite the name, your garage door's opener doesn't exactly open the door, in the sense that it's not doing the heavy lifting. It's more like the brain that makes all the other components work to lift or lower the door. It contains a motor that powers everything, and because of that any issues with it can cause a lot of trouble for your door.
What Problems Might Arise?
The main trouble is parts getting worn out over time with use, especially if you are not taking care of the maintenance aspect. The remote and wall pad connected to it may also have their batteries run out, or the antennae on the door may get damaged so that the signal to open or shut won't be received. If your door doesn't seem to respond when you press the button on either the remote or the wall pad, only works sporadically, or even begins to reverse suddenly, these are all signs that your opener may need repairs.
We Can Repair And Replace Parts!
Our professionals can get it working like new again in no time! We use the highest quality tools and parts to either fix what's there so it'll work properly, or if the part is too far gone, get it replaced with a brand new one. We work with a wide variety of brands, so you won't have to worry about whether we can tend to yours. With years of experience under our belts we can get to the root of the problem fast, and apply the best solution to fix it.
Installation Also Available!
Should the problem be too much for just repairs, or if you want to upgrade to a newer model, we can assist there as well! Our experts can take out the old opener, and install one of your choosing easily.
Contact Us Today!
Get your garage door opener working smoothly again, and call Garage Door Repair Chandler now.
In addition, count on us for:
Liftmaster Garage Door Maintenance
Genie Garage Door Openers
Oil Tempered Torsion Springs
Bent Garage Door Track Repair