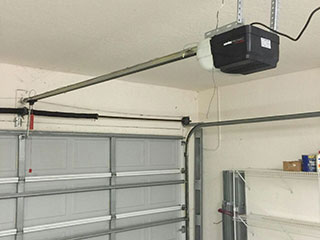 There are various reasons why homeowners opt for new garage door opener installation. The old one could be outdated, greatly damaged or completely broken. The key thing in this situation is to choose the best new unit for your needs and budget. Here are some guidelines that will make your experience easier and a lot more productive.
The Main Requirements
The most important thing of all is for the motor to have sufficient horsepower to lift the door. Check what amount of power corresponds to your unit given its size and weight. The next thing to check is whether you can have a traditional opener mounted on the ceiling. If you want to save overhead space for storage or other purposes, or if the ceiling is simply too low, you can readily go for a jackshaft opener also known as a wall-mounted operator.
Different Types and Their Benefits
A chain drive opener is the most straightforward option. Even though it is fairly noisy, it is reliable and durable. A belt drive unit would normally make less noise. You can expect it to have a high opening speed too. Since it has fewer moving components, its risk of failure is lower. This type of opener may not handle a lot of outdoor temperature fluctuations, however.
Surprisingly or not, the belt drive door operators have the same design and mechanism as the chain drive units. The main difference comes from the belt, which is used instead of the traditional metal chain. It can be made from steel-reinforced rubber, fiberglass or polyurethane. The advantages include quiet operation and the need to lubricate only the areas where friction occurs, between the trolley and rail.
Do You Need Advanced Features?
It's important to note what features are considered to be standard in the first place. The list includes a wall button and one or two remote controls with rolling code technology, which helps keep the level of security high. You can expect the remotes to use dual frequency technology too. It helps to prevent signal interference. Modern door operators also have a system for automatic shutdown in case of door malfunction.
One of the trendiest advanced features is WiFi. It enables you to monitor and operate your automatic garage door remotely via a special smartphone app. You can also get a wall console instead of a simple button. It can come with features like motion detection sensor for turning on the opener light as soon as you walk into the garage. It is up to you to decide whether such features will be useful to you and if they're worth the extra money.